Free Agents Brass Band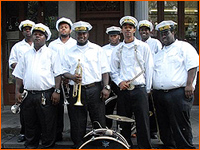 When Hurricanes Katrina & Rita came ashore, ravished New Orleans and displaced its musicians throughout the world, a group of these natives became the "Free Agents Brass Band". After watching their city drown, many New Orleanians relocated to Atlanta, Georgia where they would soon become desperate to hear jazz music accompanied by a traditional second line that was an ingredient of the culture gumbo they loved in their pre-Katrina New Orleans.

Founded by bass drummer, Ellis Joseph, the Free Agents Brass Band professed to fill that earning void. "I consider myself a free agent, so that's where the name came from," says Joseph. An experienced bass drummer and graduate of St. Augustine High School, Joseph has traveled extensively with various New Orleans Brass Bands.
Joseph made it his mission to provide the world and native New Orleanians residing in places unfamiliar to them with the resonance of home by gathering several other musicians who had also relocated to Atlanta. The Free Agents were born from this tireless effort. "We were all trying to be generous to everyone to make sure everybody had work," says Joseph. Of these musicians were trombone player Alfred Growe, Tuba Player Arian "Big Boy" Macklin Sr., and Trombone Player Ersel "Garfield" Bogan. Trumpet players Shannon Haynes, Chad Brown, and snare drum player Renard "Teedy Man" Henry, brother of New Orleans trombone great, Corey Henry, would soon follow.
Known for their motto "We Made It Through That Water", The Free Agents have earned the respect and admiration of the communities locally and abroad for their professionalism, versatility, and musicianship. Known as "The People's Brass Band", these musicians are about more than performing, they care about the authenticity of New Orleans Brass Band music and the importance of Social Aid & Pleasure to the culture of the Big Easy.
With over 100 combined years of playing with brass bands such as Rebirth, New Birth, Stooges, Soul Rebels, High Steppers, Pin Stripe, Lil' Rascals, and Showtime Brass Bands; because of their love, respect, and understanding of social aid and pleasure and their reliability, many of the above named bands leaders call on the Free Agents regularly to stand in for some of their top gigs.
The Free Agents are featured on the 2008 Sundance award-winning, Oscar nominated documentary, "Trouble the Water" and were requested to participate in the 2009, 16th Annual Martin L. King, Jr. Service Summit presented by The Martin L. King, Jr. Center for Nonviolent Social Change and Hands On Atlanta, where they performed and participated in the panel discussion about being in Atlanta, Ga. They have been humbled to travel throughout the country and abroad performing at various venues.
The music is live and intense! The showmanship is second to none! Many bands are called but chosen are few. Any crowd will thoroughly enjoy the Free Agents and leave musically satisfied longing for more of that classic New Orleans Second Line.