Stooges Brass Band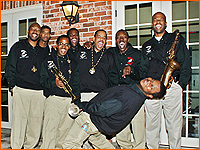 Stooges Brass Band came into existence in 1996. The band was a flavorful gumbo consisting of several high school students attending the New Orleans Center for Creative Arts (N, with OCCA), John F. Kennedy High, and the prestigious St Augustine High School. The band cut their musical teeth playing weddings, funerals, and local parties. Their first break came in 1998 when they were invited to play for the Rebirth Brass Band's 15th Anniversary Parade. They were an instant hit, becoming one of the premier bands of New Orleans.
While appealing to the emotions of traditional jazz, the brass band began using their hip-hop influence to create a new sound.

"We loved to play the traditional with our elders, but we wanted to take our influence and incorporate it into our music," says Walter "Whoadie" Ramsey.
With the success of their first release, "It's About Time," the Stooges were beginning to venture more into world of hip-hop. "Our sound then, if you can picture it," says Alfred "AL" Growe, bandleader, "was kinda like The Roots meets Earth, Wind, and Fire, meets The Dirty Dozen." The Stooges have developed an extraordinary history, including the following performances: "Angels" with Jessica Simpson, "Time's Up" with Jadakiss, special performance for Violator Management's Executive Mona Scott's wedding, and they've even performed for President Barack Obama when he was running for Senator of Illinois. They have traveled the world to perform in Asia, Europe, and South America, and are planning to introduce themselves to African and Australian audiences in early 2011.
The Stooges have toured nationally and internationally in Asia, Europe, and South America. In October, the Stooges Brass Band won the title of Red Bull Street Kings, beating out The Free Agents and To Be Continued, brass bands to win an all-expense paid trip for a three-day recording and mentorship session with a producer in the Red Bull Studios in California.
The Stooges new album, entitled "The Reunion" and rich in original hits like, "One of Dem Girls" featuring JumpShive, "I Gotta Eat", and "Oh No" is scheduled to be released in the Spring of 2011.